The co-working segment has seen impressive growth in recent years and is acting as a catalyst for modern workspaces. This has been possible due to the adoption of innovations and hybrid offerings by the co-working operators. Their networking events, community initiatives and creative designs promote a sense of community and encourage collaboration. The business model adopted by some of the flex space operators is that of hybrid usage offering both managed offices and co-working. Success of co-working can also be attributed to the operator's ability to respond to the needs of today's agile and collaborative workforce. Experience oriented office space; superlative amenities and community-driven ecosystem are some of the benefits that are attracting office space occupiers to co-working centres. amenities and community-driven ecosystem are some of the benefits that are attracting office space occupiers to co-working centres.
Coworking space are adapting their space according to the needs of occupiers. They are providing a mix of private offices, Dedicated seats/ Shared seats and more recently even customising the centres specifically for their clients. The operators provide a seamless platform for an enterprise to outsource the sourcing, designing, building and managing of their office space thus allowing them to entirely focus on running their business.
Major benefits of co-working spaces
Spatial proximity between companies of various segments leads to communication and networking amongst members
Enables occupiers to take up space quickly if they need a temporary space or access to a new market
Increased flexibility in adopting lease tenure terms and deciding upon scale of operation
Provides access to various in-house facilities under one roof and acts as a common link between hospitality, administration and other support services, which turns out to be beneficial mainly for small scale and newer companies
Reduction of fixed overheads and cost savings of 20-25% compared with leasing a traditional office space
Co-working as a growth driver in Coworking market
The last few years have seen an exponential growth of co-working as a concept across major office markets in India. A comparison of the cumulative co-working space leased (in Grade A office space) by different service providers across top seven cities during 2017 and 2018 indicates a marked increase. While in 2017, the space leased was 1.9 million sq. ft., it increased more than two times to 3.9 million sq. ft. in 2018. In 1Q 2019 space leased by co-working operators has already reached 1.1 million sq. ft. and therefore it is expected that in 2019 it will surpass the area leased recorded in 2018.
The growing demand of co-working space is due to the aggressive expansion by existing players and entry of new operators. If we consider the top seven cities, the co-working share in office leasing has increased from 5% in 2017 to 8% in 2018. In 1Q 2019, it increased further to 12% demonstrating a healthy demand for office space from this sector. According to our estimates, there are approximately 325-330 co-working operators in the top seven cities of India. (This number does not account for smaller operators existing in these cities).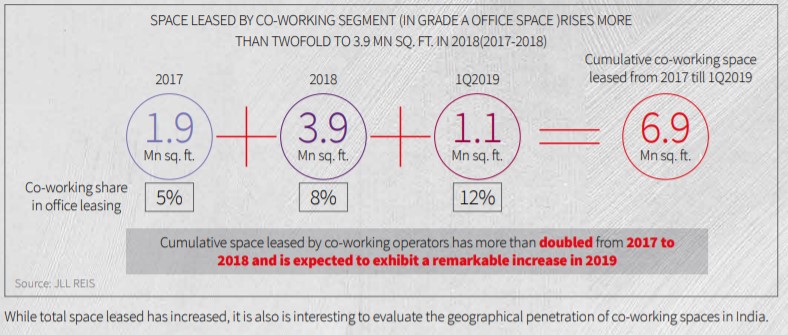 EVOLVING CO-WORKING ECOSYSTEM IN INDIA
India has one the highest office space requirements in the world. The total annual office space absorption in India stood at around 41 million sq.ft. in 2017. On the other hand, the country is also experiencing growth in the number of startups and freelancer population. As per the report published by NASSCOM, India had around 4,200 startups in 2015, which is poised to grow by 2.2% to reach 11,500 by 2020. Total funding received by Indian Tech Startup in 2017 was around USD 13 billion. These statistics point towards a huge scope for the co-working industry.
However, popularity of co-work spaces in India is comparatively recent. It was only during the early phase of the ongoing decade that the trend of co-working started catching up in India. Launched in 2013, 91Springboard was one of the earliest well known organised co-working space in India. Until then, the only well known shared office space provider was Regus, which rather than a co-working space was more focused on business centre and virtual office space services. While WeWork, the global industry leader opened up its first India centre at Delhi in the mid of 2017 and is currently operational with around 16 centers across Mumbai, Gurgaon and Bengaluru.